MISSOULA (UM press office) – The Davidson Honors College at the University of Montana recently announced the recipients of the 2022 Presidential Leadership Scholarship, the University's most prestigious academic recognition for incoming students.
The 24 Presidential Leadership Scholars were chosen from DHC's largest cohort of applicants across the country and represent the pinnacle of academic excellence and community service. Presidential Leadership Scholars will enroll in UM's Davidson Honors College in addition to their chosen undergraduate disciplines. At UM, they will contribute to academic innovation, benefit from personal and professional development opportunities, and improve their leadership skills.
"These scholars chose to attend the University of Montana over other institutions because of our academic rigor and the unique honors community we offer at Davidson Honors College," said DHC Dean Tim Nichols. "We are excited to welcome these future leaders to Missoula, where they will grow academically, promote public service, and strengthen the vibrant UM campus community."
The Presidential Leadership Scholarship is a four-year scholarship for incoming UM students. Student applications and interviews are reviewed by a committee made up of specialist faculty and campus partners. Scholars are recognized for meritorious academic achievement, demonstrated leadership skills, and professional potential.
"This fall's diverse and dynamic class of Presidential Leadership Fellows includes future scientists and physicians, journalists, lawyers, educators, business leaders and performing artists," Nichols said. "They are valedictorians and varsity athletes, student council officers and musicians from every state. They are advocates for diversity, the environment and social justice. They have already made and will continue to make a difference in their communities.
The 24 Presidential Leadership Scholars will enroll at UM in the fall and will represent 12 states, including 11 Montana scholars. The 2022 UM Presidential Leadership Scholars are:
MONTANA
Zoe Belinda of red lodge interested in environmental studies. She graduated as valedictorian, was a college starter in volleyball, and won the state championship in speech and drama. Belinda was student council president for her district and earned second place in the state in a job interview for SkillsUSA. She describes herself as a country girl who is goal-oriented, driven and ready to succeed at UM.
Riley Crews of Lolo graduated at the top of her class from Sentinel High School. She is interested in studying primary education and hopes to become a teacher, for which she is already practicing as a substitute teacher in Lolo. Crews was secretary of the National Honor Society and captain of her school's cross-country team. She is a third-generation student at UM and is excited to help build the student environment at UM. His interest in outdoor activities such as hiking, running, and skiing made Missoula a great place to attend college.
Brady Drummond of Belt plans to major in management information systems and plans to pursue a consulting career after her undergraduate studies. She graduated with honors, advanced placement, and dual-enrollment credits. Beyond her love for business, she has a passion for writing and reading poetry, animals, and community service and involvement. Drummon is the 2021 National Poetry Ourselves Champion (an original poetry contest) and the 2021 Montana Poetry Out Loud State Champion (a poetry recitation contest). She was involved in rodeo and 4-H for 10 years, showing lambs, hogs, steers and horses. She was also a member of DECA and a member of the National Honor Society.
parker friday is of Billings. She participated in student government, several sports, and various choirs at Billings Senior High School. Parker was president of the high school student body, a member of the Senior's Varsity Singers and two auditioned ensembles, and a member of the National Honor Society. Friday values ​​new opportunities to learn and grow and strives to challenge themselves academically. Outside of school, she enjoys spending time with her parents and her dog, watching movies and TV shows, and paddleboarding the beautiful lakes of Montana.
Lydia Garrick of Missoula graduated at the top of her class from Sentinel High School and wants to become a pharmacist. Garrick was an officer of the Health Professions Students of America, treasurer of the National Honor Society, first cellist of the Montana Youth Symphony, and first president of the All-State Orchestra. Garrick also worked in a microbiology lab at UM and presented his own research at the Junior Science and Humanities Symposium and State Science Fair. She enjoys playing the cello, hiking with friends, and taekwondo. His progression from white belt to third degree black belt taught him perseverance and the value of dedication and hard work.
Hannah Geiger of Kalispell is an International Baccalaureate 4.0 student interested in studying Business Administration. Her childhood was spent outdoors exploring nature through camping, hiking, and kayaking, among other activities. Her intrinsic curiosity led her to immerse herself in literature and art. Geiger said she always had her nose in a book and probably owned every "Weird-But-True" edition of National Geographic, but was particularly drawn to fantasy and history. She volunteered at the Conrad Mansion Museum for four years, hosting tours, cleaning, and helping with special events, as well as at the Kalico Art Center, where she taught a free class each week for anyone to experiment with different mediums. She has participated in Chamber Orchestra, Speeches and Debates, She-Ra Mentoring Theater and the Rotary Youth Leadership Awards.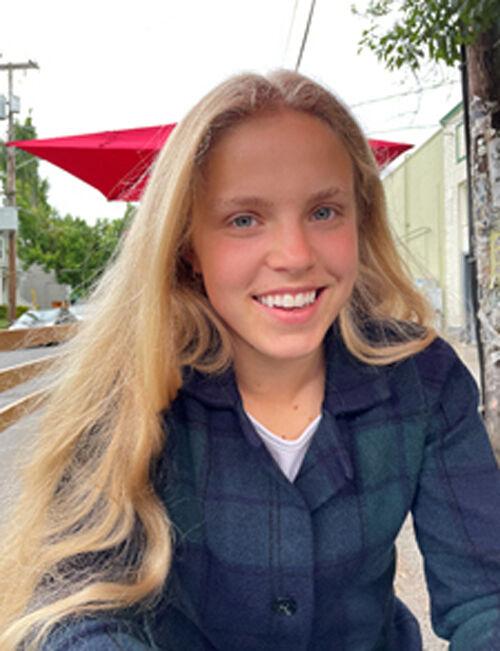 Ruby Jennings of great falls grew up raising animals including horses, cows, sheep and pigs in 4-H and the National FFA Organization. She plays both tennis and the violin. While in school, Jennings was involved in student government and leadership. She enjoys writing and outdoor hobbies like hiking, biking, and skiing. Jennings hopes to study environmental science and pursue a career in environmental sustainability.
Faith Marshall of Missoula is interested in becoming a doctor. At Sentinel High School, she was student body president, varsity football captain, and an active member of other Sentinel sports and activities. Marshall is passionate about travel and looks forward to studying abroad during her college experience.
Scout McMahon of Kalispell is the self-described "confident, boisterous girl in history class." His curiosity and academic interests were shaped by his childhood in bush planes. McMahon enjoys exploring the limits of what she can accomplish mentally through speech and debate, mock trials and Model United Nations, as well as physically through biking, hiking, flying and swimming. As president of a nonprofit at age 17 (and representing that nonprofit in a lawsuit against the Secretary of State for Voter Rights), McMahon devoted much of her free time to building their community. She believes in giving back and wants to empower her community the same way she empowered it. When not busy with other work, McMahon enjoys knitting, painting and growing plants.
Marley Miller of Kalispell is a graduate of Flathead High School pursuing the full International Baccalaureate degree. He has been involved with Health Occupations Students of America, DECA, Student Council, National Honor Society, He-Man Book Club (a club that reads to local sophomores), athletics, swimming, and cross country. Miller was an executive mentor for Brave Mentoring (a mentorship program for freshmen). He has also served as president of Health Occupations Students of America and DECA. He was elected Governor of Boy's State and was chosen in Flathead Valley for an award called "Today's Achievers, Tomorrow's Leaders". He is also a DJ for school dances, weddings and other events.
Britney Wagner (Blackfeet name: Mountain Snow Woman) comes from Burnishing and graduated at the top of her high school class. She and her family have been active with the Blackfeet Tribe and at UM. Wagner has golfed three times at the state tournament and has been involved with 4-H, the Niipoomakiis Cultural Society, Diversity Leadership Group, and Girl Scouts as a robotics mentor. She is interested in exploring journalism, sports journalism, criminology, sports training and sports medicine. Her culture is very important to her and Wagner does her best to represent her tribe, her family and her city in the best possible way.