George HW Bush on Grounds: A look back at the legacy of the former president at the AVU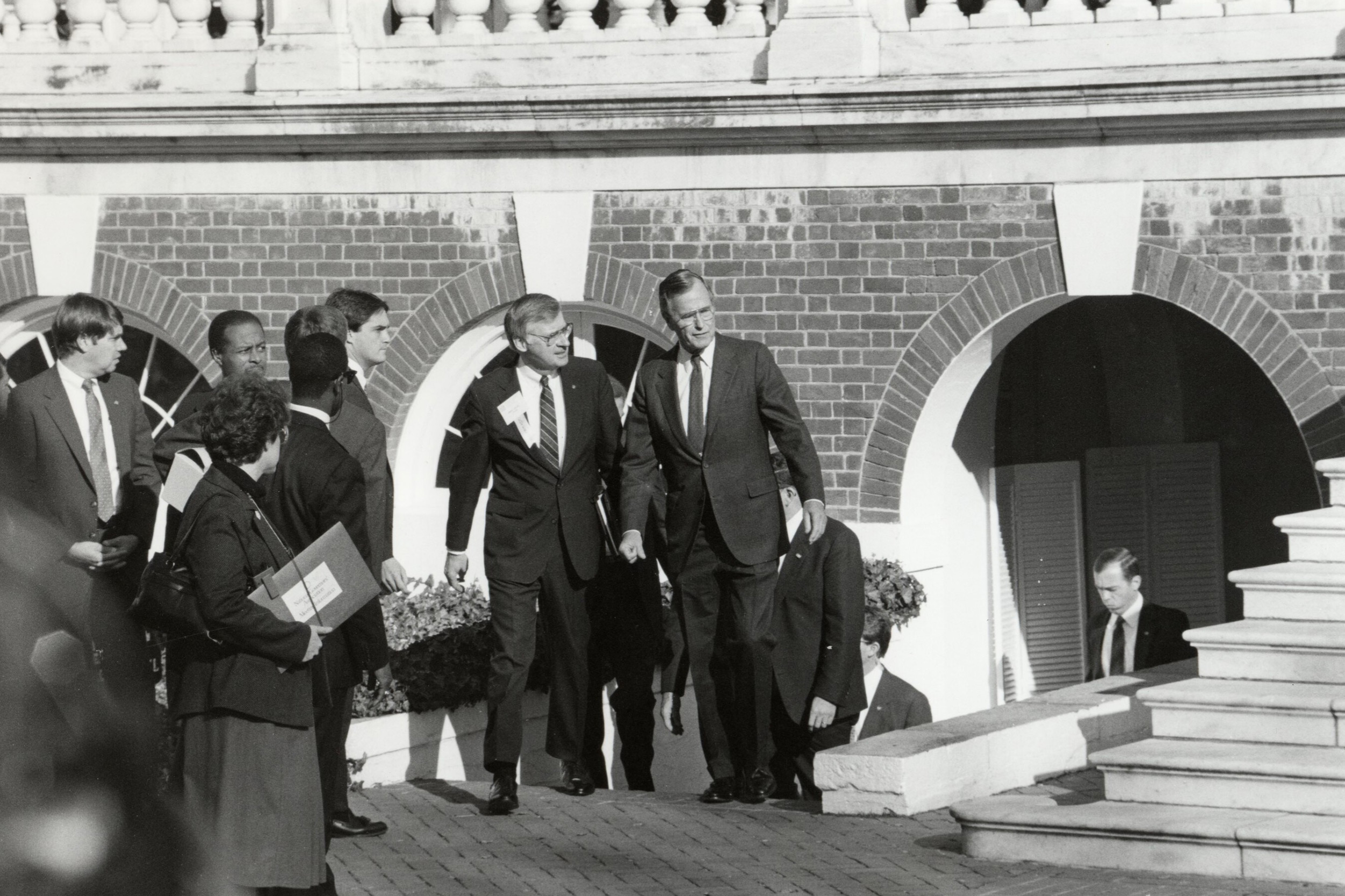 When George HW Bush died on Friday at the age of 94, he left behind a considerable record of public service, including as a member of Congress, director of the Central Intelligence Agency, United Nations ambassador, vice president of Ronald Reagan and 41st President of the United States.
This career has also crossed paths with the University of Virginia on several occasions, including a memorable opening address to the class of 1981 and a founding 1989 summit on public education that drew governors across the country. at Grounds.
Professor Larry Sabato, director of the Center for Politics, attended both events and taught Bush's youngest son, AVU graduate Marvin Bush.
"President Bush was the last occupant of the Oval Office that served in World War II, and heroically so," Sabato recalled. "In many ways it reflected the attitudes and virtues of the greater generation. He believed in public service and sacrificed himself to serve again and again in important positions. "
Sabato praised Bush for his effective handling of the fall of the Soviet Union and its Eastern European Empire, and for building a broad coalition for the Gulf War, as well as for his work on the 'American with Disabilities Act, which Sabato called "the most significant national achievement." And he remembers his visits to Grounds.
Opening speech
When Bush joined the AVU on May 24, 1981, to address the Class of 1981, he was relatively new to his position as vice president.
Coming out of a murderous campaign with Ronald Reagan in 1980, in which he sought the Republican nomination for president and then agreed to serve as Reagan's running mate, Bush used his speech to call for a more civil public discourse, to mark points against opposing policies, and to speak against the dangers of blind adherence to political dogma.
He referred to the deep social and political divisions of the 1960s and the lasting effect they had in government, with the media and in society at large.
"The result is that the political debate on issues important to the future of our country has often become a question of labels and accusations against the opposition, and not a competition of ideas freely and fairly argued," he said. he declared.
Bush decried tribal political thinking as contrary to Jeffersonian tradition and spoke of the dangers of knee-jerk responses to the issues of the day, including America's role in addressing global human rights violations. Read the full speech.
"Some people think we have to scream from the rooftops, beat our chests and humiliate countries in order to effect change. We don't agree, "he said.
For many professors and AVU alumni, however, the politics and political implications of the speech are overshadowed by memories of a faulty audio system, accidentally amplified profanity, and the presence of snipers on the roof. .
Sabato was present. Professors and students demonstrated against some Reagan-Bush policies during the speech, he said, but it was a largely respectful event.
"What everyone remembers is the repeated failure of the audio system," said Sabato. "We were all mortified, and Bush was understandably frustrated, and let people know that."
Audio came in and out throughout the speech, including one incident in which he returned just in time to catch Bush using choice language.
"He was patched up and his skill continued. But the President [Frank] Hereford was furious and correctly decreed that at all future graduation ceremonies and other major ceremonies there should be redundancy built into the system, "Sabato said. "The master of the psychology class, Professor Ray Bice, installed one of his famous 'Bice devices' and to my knowledge, we haven't had an embarrassing failure since."
Sadly, the only thing I remember from his graduation speech (UVA'81) was "Is that damn thing on?" We were so shocked that a president used bad language! Back when this Wahoo was naive and innocent.

– Caffeinated Librarian (@CaffLibrarian) December 1, 2018
The presence of snipers atop the Old Cabell Hall also appealed to many attendees.
"We expected this today, but it was a shock back then – but quite justified since President Reagan had only narrowly escaped assassination a few months ago, and in fact still was. recovering, "Sabato said.
The Education Summit
The AVU again held a prominent place for Bush in 1989, when he was less than a year away from his presidential term. He chose UVA as the site for a public education summit that drew the nation's 50 governors to Grounds.
On September 27 and 28, governors and federal officials came together to try to articulate a set of national goals around public education and the role of the federal government in achieving them.
"It was one of the biggest stories of 1989, and there is no doubt that the Bush family's familiarity with the University influenced their choice of venue," said Sabato. "I remember many buildings given up for a few days to accommodate the press. The Rotonde area was a forest of TV booms, satellite trucks and feverish activity. Provost Ed Floyd and his wife Peggy left Pavilion II for at least a week to give the Secret Service a seat overlooking Place de la Rotonde, where a lunch for all the governors and their wives was held. "
Absoutely. I was one of the organizers of the 1989 Education Summit which he held at @UVA with the 50 governors (he was then working for Gov Baliles). Whatever you think of the agenda, President Bush was never mentioned. It was about results.

– Greg Principato (@greg_otto) December 1, 2018
Sabato recalled that the event was almost entirely non-partisan and said Bush was working closely with a little-known governor of Arkansas, who was the head of the National Governors Association's education task force.
The summit was viewed as a bipartisan success by governors and the president, he said.
"I still vividly remember the President and Mrs. Bush walking the lawn with Bill and Hillary Clinton right next to them," he said. "Of course, neither of the two couples had any idea what was going to happen in 1992."