President's Leadership Program teams take top honors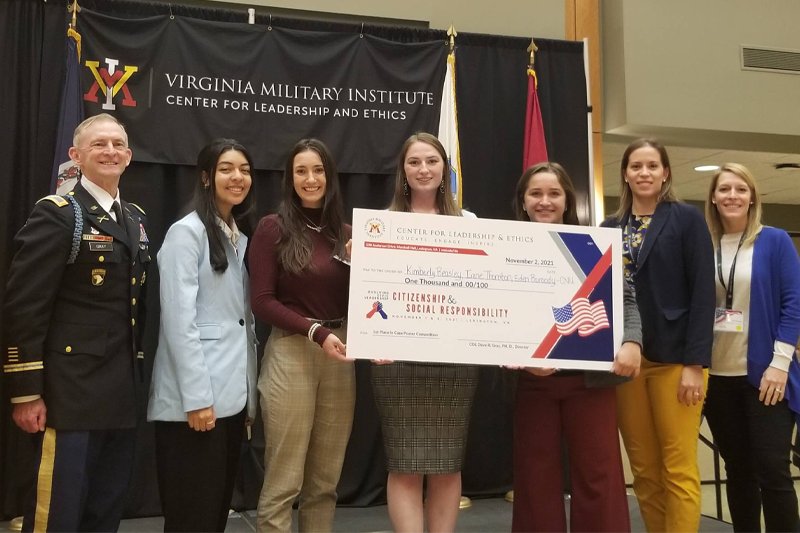 Reading time:
---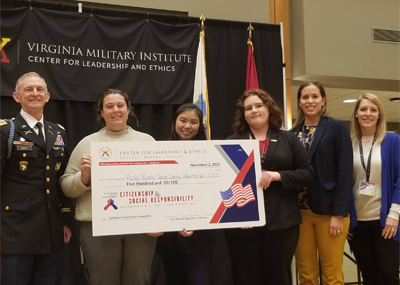 Two teams of students from the President's Leadership Program (PLP) won first and second place in the inaugural student case study competition at the Virginia Military Institute Leadership and Ethics Conference.
Although the competition is new, the conference has a long tradition at VMI as cadets, students from other institutions, faculty and other participants discuss the qualities necessary for effective civic leadership.
During the competition, student teams developed a real-life case and discovered the systemic complexities of leadership associated with a selected social issue.
The Blue Team's presentation was titled "The Evolution of Gender Equality Under the Law, Ubiquitous Issues of Persisting Gender Inequality in Contemporary Society", and members included Kimberly Beasley '22 (Captain ), Irene Thornton '23 and Eden Baroody '24.
The Silver Team's presentation, "Civic and Ethical Responsibility of the Media to Provide Factual and Accurate Information to the Public", was chaired by Rachel Ricard '22 (Captain), Jamie Canty '23 and Rebecca Le '25.
Christopher Newport's teams were the only groups to meet all the requirements to advance to the final round. After the Blue and Silver teams presented their cases, they were then faced with tough questions from senior VMI executives. In the end, the judges awarded first place to the blue team and second place to the silver team. First place came with a cash prize of $ 1,000; second place included $ 500.
"Our students have been praised for their ability to relate leadership theory to contemporary issues and bring a project to fruition," said PLP Director Lacey Gray H. Hunter '08. "Administrators from other military institutes such as the Citadel, Coast Guard Academy and VMI have complimented the excellent oral skills of our PLP students and their great ability to demonstrate a solid understanding and application of leadership. "
PLP Scholar Laila Pirnazar, Deputy Director of PLP Erin Coiley, and Lori Throupe '07, Professor in the Department of Leadership and American Studies, mentored and coached the students throughout the process.
This semester has been a success for PLP teams in major competitions. A team from Christopher Newport won first place in the International Leadership Association's case competition, competing against leading US and international universities.
PLP is one of Christopher Newport's scholarship programs. The four-year leadership training experience enables students to recognize their leadership potential and develop personal and social responsibility for self-improvement and society. Learn more at cnu.edu/plp.
---