The Presidential Leadership Academy selects the class of 2017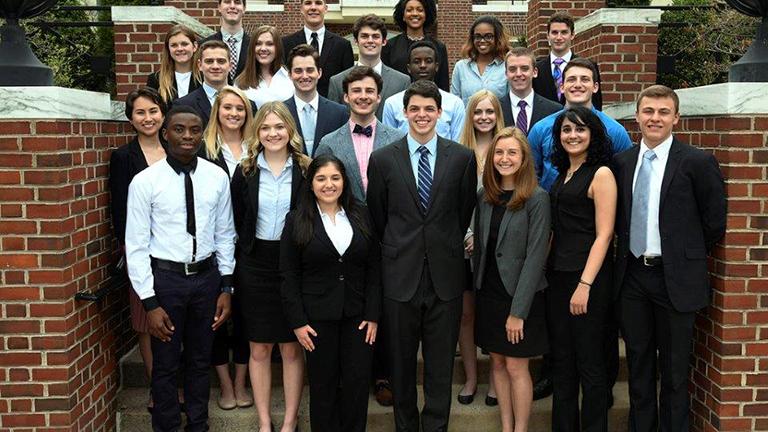 UNIVERSITY PARK, Pennsylvania — The Penn State Presidential Leadership Academy (PLA) has announced its newest members for its Class of 2017. Thirty students from the University Park campus will begin their participation in the three-year program this fall. Founded with a principal gift from Edward R. and Helen S. Hintz in 2009, the PLA was created with the aim of developing critical thinking skills and educating students to understand issues broadly taking into account the complexity and variability of the issues, decisions and rulings of the world. life circumstances.
Seventeen men and 13 women make up this new class and represent 11 of Penn State's 12 undergraduate colleges. Fifteen Commonwealth students from Pennsylvania, three from Virginia, two from New Jersey, two from New York, two from Massachusetts, two from California and one from Georgia join students from Iran, Rwanda and Zimbabwe.
New APL members have a variety of interests, from interning with U.S. officials to working at research labs like the Perry Anthropological Genomics Laboratory, Paulson Laboratory, and PIKE Research Lab; to involvement in organizations like THON, the Schreyer Honors College Student Council, the Millennium Scholars Program or the men's varsity volleyball team. They volunteer at places like Center County PAWS and Shaver's Creek Environmental Center and participate in Army ROTC, Global Medical Brigades, and Pennharmonics.
"We are thrilled that students want to be part of the Presidential Leadership Academy, and the drive and determination of this group of first-year students showed in the quality of the applications," said Melissa Doberstein, director of the Presidential Leadership Academy. Leadership Academy. "Having diverse contributions and perspectives opens up opportunities to see how paths cross and connect, and that involvement needs to come from students of different genders, races, ethnicities, political spectrums, and majors. It is exciting to see how our students are developing and how the PLA helps them in this aspect by providing them with scholarships and networking opportunities, and connecting them with alumni who have participated in the program.
In addition to program courses, students attend leadership seminars, engage in community programs, and participate in fully-funded field trips scheduled each academic semester to give students a broader perspective on social, political, and social issues. environmental. During the 2016-2017 academic year, members of the Presidential Leadership Academy traveled to New York in the fall and to Seattle and Gettysburg in the spring.
University President Eric Barron teaches a weekly seminar during the first year of the program with honors courses led by the Dean of Schreyer Honors College and Doberstein, as well as a course focused on critical thinking. The last year ends with a synthesis experience and the creation of an e-portfolio.
The Presidential Leadership Academy fosters an environment that promotes and develops core values ​​for potential leaders, including civility, philanthropy, respect for diversity, and student engagement. This academic community of students, faculty, and administrators explores multiple dimensions of issues, encourages diverse viewpoints, and creates fully informed and respectful discourse that leads to meaningful action.
The Presidential Leadership Academy received 170 applications for the Class of 2017 and approximately 60 qualified for the interview portion of the process. The final group of 30 members was selected after a review of their academic achievements and performance and an evaluation of their interviews.
In addition to student-submitted applications, Penn State faculty and staff also submit applications from qualified students for membership in the Presidential Leadership Academy. Applications are expected at the end of January. Students can apply from December to early February of each academic year. The topics for the two compulsory essay questions will be announced at the end of the fall semester.
To be considered, students must have a cumulative grade point average of 3.2 or higher at the time of application and include an up-to-date resume with on-campus or off-campus leadership activities. Two letters of reference, one from a Penn State faculty member, staff member, or advisor and one regarding the outside activities of someone such as a coach, mentor, or supervisor, must be submitted with the application.
For more information about Penn State's Presidential Leadership Academy, visit academy.psu.edu.
The new Presidential Leadership Academy class of 2017 includes:
Audrey Arner – Stafford, Virginia; Eberly College of Science
Thomas Beeby-Cape May, New Jersey; liberal arts college
Brigette Cannata – Staten Island, New York; Eberly College of Science
Ryan Christenson – Needham Heights, Mass.; Smeal College of Business
Dennis Fisher – Manassas, Virginia; College of Education
Bryel Frasch–Ashland; Eberly College of Science
Ryan Fritz-Honesdale; College of Engineering
Kathleen Gergel – West Chester; College of Communications
Jake Griggs – Port Mathilde; Division of Undergraduate Studies
Olivia Gude – Atlanta, Georgia; College of Communications
Tara Hally – Fairfax Station, Virginia; Smeal College of Business
Benjamin Hartleb – Erie; College of Engineering
Helia Hosseinpour – Kingston, Pennsylvania and Iran; liberal arts college
Raymond Hoy – Conshohocken; College of Engineering
Bailey MacDowell-Lancaster; College of Information Science and Technology
Grace Miller-Hershey; College of Information Science and Technology
Emmy Muhoza – Kigali, Rwanda; College of Earth and Mineral Sciences
Caleb Musekiwa – Mount Darwin, Zimbabwe; College of Engineering
Jason Ogden – Port Mathilde; Division of Undergraduate Studies
Samantha Olson – Netherlands; College of Nursing
Elijah Reber – Wernersville; College of Engineering
Tomas Sanchez – Philadelphia; liberal arts college
Natasha Schlaffer – Simi Valley, Calif.; College of Arts and Architecture
Emma Sinkoff – Richmond, Mass.; College of Health and Human Development
Nathan Smith – Los Altos, Calif.; Eberly College of Science
Cory Steinle – Beaver Falls; liberal arts college
Alisa Vasquez – Washingtonville, New York; College of Communications
Ian Wasserman – Mount Laurel, New Jersey; College of Earth and Mineral Sciences
Kyle Wetzler-Harleysville; College of Engineering
Daniel Zahn–Allentown; liberal arts college