The Presidential Leadership Society is looking for student candidates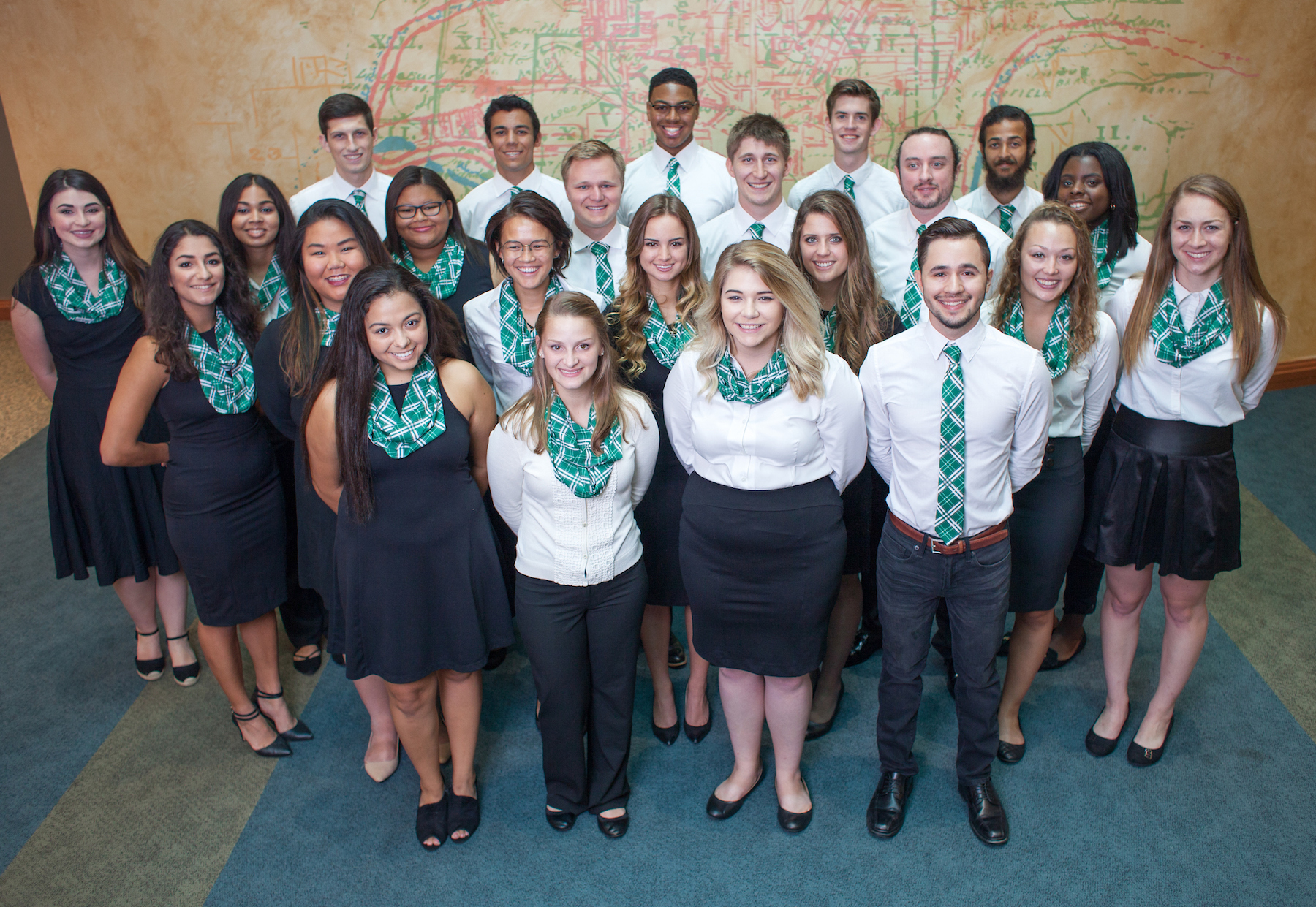 Presidential Leadership Society Ohio University student members in 2017.
The Presidential Leadership Society is a group of volunteer student leaders who volunteer their time and talents to advance the priorities and initiatives of the Office of the President and academic advancement. Members of the Society serve as official representatives of Ohio University at various presidential, advancement, and alumni events (virtually and in person if possible) throughout the academic year.
Through high-level training and regular interactions with University management, students chosen for this organization will be ready to host University guests at various public and private functions, in order to support the mission of the president's office. Having proven their leadership abilities by serving other student organizations and getting involved in campus and community activities, these loyal Bobcats will be well prepared to represent the best that OHIO has to offer. The University is now seeking students to join the Presidential Leadership Society.
Examples of the company's activities:
Represent the University and the President as official hosts for signing experiences with internal and external constituencies, such as:

Presidential suites at home football matches
Regional Admissions Recruitment Events
Virtual donor events
Return home events
Lecture series and more!

Receive professional development training and listen to guest speakers at group meetings
To learn more about the Society from a current member, attend an up-and-coming virtual reception.
Tuesday 23 February 2021
5 pm-6pm
Click here to join the meeting
Wednesday February 24, 2021
5 pm-6pm
Click here to join the meeting
Please RSVP to [email protected], as well as to receive additional information on the application requirements.
To be considered a member of this distinguished group of students, students must be prepared to meet the required time commitments and submit an online application.
3.0 GPA or higher
Registration as a full-time undergraduate student
Completion of at least two semesters of academic work at OHIO
A letter of reference from a faculty member or advisor at Ohio University
Please Note: Application materials should be submitted online through the Presidential Leadership Society page, by the deadline: midnight, Friday March 5, 2021. Letters of recommendation should be emailed to John Rogers directly from the faculty member or the advisor by email at rogersj1 @ ohio.edu.
The selection process for the Presidential Leadership Society is very competitive. If students are chosen from the pool of applicants to take the next step, they may be invited to participate in an interview to be held between March 22 and March 31, 2021 – times to be determined.
For more information, visit ohio.edu/president/presidential-leadership-society.